Media 1 (Server)
Talk

0
6,424pages on
this wiki
This page is incomplete!
This page is a stub. You can help by expanding it as soon as possible, then removing this tag.
This is a server page!
This page is about some sort of server on club penguin.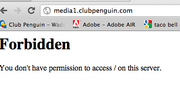 Media 1 is the Club Penguin server in charge of storing SWF files. You can access single files but not the complete database. When you try to go to media1.clubpenguin.com, it does not let you because your IP address is not in the system. Only the Club Penguin staff have access. Currently the interface behind the forbidden page is unknown. It is inaccessible. Club Penguin has used a .htaccess file to block all IPs except for their IP.
Known Map
Edit
Taken from an nMap scan
/support/
http://media1.clubpenguin.com/support
/mobile/
http://media1.clubpenguin.com/mobile
/admin/
http://media1.clubpenguin.com/admin/ http://media1.clubpenguin.com/admin/system/ http://media1.clubpenguin.com/admin/system/database/
/team/
http://media1.clubpenguin.com/team/ http://media1.clubpenguin.com/team/tools/ http://media1.clubpenguin.com/team/tools/players/ http://media1.clubpenguin.com/team/tools/admin/
/secure/
--> (HTTPS?) http://media1.clubpenguin.com/secure/ http://media1.clubpenguin.com/secure/manage_account http://media1.clubpenguin.com/secure/membership/
/community/
http://media1.clubpenguin.com/community/
/CDN/
http://media2.clubpenguin.com/cdn/video
Sandboxes etc
stageplay.clubpenguin.com http://sandbox03.team.clubpenguin.com/