Marvel Super Hero Takeover
Talk

1
8,307pages on
this wiki
This article is a disambiguation page.

The following is a list of links to other articles that are related to the one you are viewing. They may have similar names or be about the same subject. Find the one you wanted on this page. Please do NOT mark this article as a stub.
Marvel Super Hero Takeovers are annual events in Club Penguin. The original Marvel Super Hero Takeover was the first event to include characters from the real world, or other brands or companies, this being Marvel Comics.
The events are essentially wars between Super Heroes and Super Villains. The island always transforms into Penguintropolis. Paid members can suit up in special Marvel character costumes from the Marvel Catalog.
Ultimate Proto-Bot 10000 appears at both parties so far. His first attempt to take over was by building Destructobot, and the Doom Drones to frighten the citizens of the island, but he failed when the Super Heroes defeated them. His second attempt to takeover, which causes the 2013 party to occur, was when he and the other villains built robots to help the Doom Drones cause destruction to Penguintropolis, proving that he won't stop until he is victorious.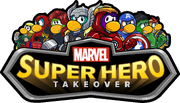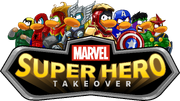 There are two Marvel Super Hero Takeovers.
Trivia
Spike Hike confirmed that no Marvel-themed party would occur in 2014. However, he said that maybe next year, it could still happen again.
See also