Login Screen
Talk

0
8,135pages on
this wiki
This Article is Out of Date
This article needs to be updated. One or more events have happened, and are not included.
Needs image(s)
This page needs images to show what the subject looks like. You can help by uploading one.
The Login Screen is the screen where players can log in to play Club Penguin or create a new account. The scenes shown above the "Play" button on the Login Screen usually depict a scene that relates to something that is currently taking place on the Club Penguin Island, such as a party. You can create a penguin or login to your penguin from here. Older features of the login screen were quick links to the What's New Blog and the Membership page.
Old login screen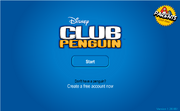 Unlike the current Login Screen, the old Login Screen would not have any of the scenes above the "Start" button, and in that place, the Club Penguin logo could be seen. In the upper-right hand corner where the "Unlock Online Items" button is currently, a button that linked to the "Parents" page could be found. This login screen was only used from 2005 to December 22, 2008.
Login Screen Design #2
The Login Design #2 was a login screen used between the old login screen and new login screen. The design was released on December 23, 2008.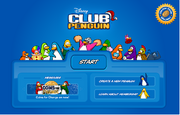 Current Ads
Past Ads/Temporary Ads
List
This article is a list of things.
Gallery
See also
External links
SWF