Lighthouse
Talk

2
6,413pages on
this wiki
Lighthouse

Information
Where
In the Beach
Opened
September 22, 2006 [1]
Closed
Still open
Mini-Games
None
Room ID
410
Tour Description

"This is the Lighthouse... the tallest building in Club Penguin. Take a look at the pictures on the wall... or grab a new instrument and preform on the stage. Go upstairs to find the Beacon!"
The
Lighthouse
of the
Club Penguin Island
is a lighthouse located at the
Beach
, on the south west of the Club Penguin island. Once you enter, you will see the
stage
area. On the top of your screen, there will be a flight of stairs leading to the
Beacon
. On the walls are pictures of maps,
penguins
, the Lighthouse, the
Beach
,
Fluffy the Fish
, and
Rockhopper
, the pirate
penguin
. Go up these stairs and your penguin will enter the second story of the Lighthouse, the
Beacon
. A shortcut for entering the
Beacon
is by clicking on the "To Top" sign near the top left corner of the screen.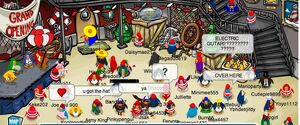 The night before it opened, workers worked for quite a few hours to fit in the light. The Penguin Band played to celebrate. Many moons before, the Lighthouse was just an empty room, but now, penguins have filled it up with Rockhopper's pictures and many various items, such as a steering wheel. You can have access to the Beacon by climbing up the stairs or just clicking on the 'TO TOP' sign. The Lighthouse is the tallest building in Club Penguin.
In July 2010, there was a update to the Lighthouse, as it was given a Music Catalog from the Music Jam Parties. Since then, it is updated rarely with new musical instruments.
There used to be music that switched after every party before August 2009.
In some PSA Missions (such as the The Veggie Villain) you can click the drum and it will make different sounds, depending on where you click.
Many new penguins don't know it, but if you click the sign pointing upstairs saying "To Top" it brings you straight to the Beacon, instead of walking up the stairs.
During the Holiday Party 2011, when you threw a snowball in the lighthouse it would become a coin.
The stage in the Lighthouse was built April 13, 2007.
It is related to a Lighthouse in real life.
During Operation: Blackout the Lighthouse looked like a Hospital.
During Operation: Blackout, there was a poster with a penguin pointed that read "THE HOSPITAL NEEDS YOU". This may be a reference to the famous I WANT YOU FOR U.S. ARMY Poster.
In the Lighthouse Hospital in Operation: Blackout, penguins pretended to get sick, get bitten by puffles or falling down stairs.
Its swf name is light.
References
Edit