Conjecture
The subject of this article does not have an official name yet, and as such, it has a conjectural title.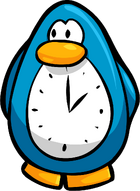 The Light Blue Penguin Clock was a clock first seen in PSA Mission 9: Operation: Spy & Seek in the Lodge Attic. The time is indicated on the tummy of the Light Blue Penguin.
Trivia
It can't be seen in-game, only in missions.
A black puffle clock is hung up beside this one.
Ad blocker interference detected!
Wikia is a free-to-use site that makes money from advertising. We have a modified experience for viewers using ad blockers

Wikia is not accessible if you've made further modifications. Remove the custom ad blocker rule(s) and the page will load as expected.