Leprechaun House
Talk

0
7,351pages on
this wiki
This room is or was a temporary room.
It can or can not currently be found on Club Penguin. It may or may not return in the future.
Leprechaun House

Information
Where
Forest
Opened
March 13, 2009
Closed
March 17, 2009
Mini-Games
None
Room ID
 ?
Tour Description

Welcome To the gold house! Look at all that gold! Leprechauns are very musical and they like the color aqua. Happy St. aqua's Day!
The Leprechaun House was a members-only party room during the St. Patrick's Day 2009.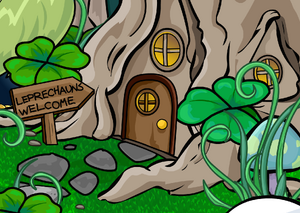 History
Free Items
Appearances
Trivia
It was the only party room during St. Patrick's Day 2009.
If players click on the light blue vase, a rainbow would shoot out of it.
If players click on the drum, a stick would start hitting the drum by itself.
If you look closely, the stairs go through the chair.
Glitches
For a little while, there was a glitch that when the room was loading, it said, "Loading Puffle Feeding Area", the last party room. This glitch was fixed.
See also