Not to be confused with the item.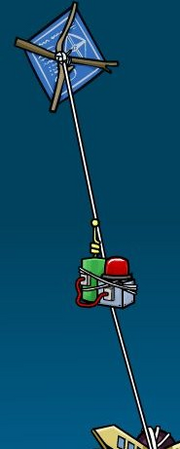 The Kite 1000 is a tracking device that first appeared in Mission 9. It was used to locate Herbert by tracking a Spy Phone that he stole, using tracking devices atttached to the kite.
It was placed above the Ski Mountain, along with the other two tracking devices - a Rubber Duck and a Mine Cart - that also contain tracking devices and have been placed in diffferent spots in Club Penguin.
Components
Trivia
There is a hand item that looks like the Kite 1000 called the Kite.
Gallery
See also
Ad blocker interference detected!
Wikia is a free-to-use site that makes money from advertising. We have a modified experience for viewers using ad blockers

Wikia is not accessible if you've made further modifications. Remove the custom ad blocker rule(s) and the page will load as expected.