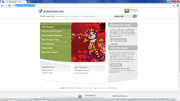 On June 20, 2011, over 12 million Club Penguin players were unable to login due to a downtime. Unlike other downtimes which usually lasted for minutes, this one lasted for hours. The cause of the downtime was that the domain for ClubPenguin.com had expired, as a result of Disney failing to renew it.[1] A WHOIS check revealed that the domain actually expired on June 13, 2011, and was taken offline on the morning of June 20. According to reports, Disney had already been warned many times that the domain was going to expire soon, but they still managed to forget. This might be because many people were fired. The page varied by countries - either a clown or a golfer was depicted on the site.
There were speculations that Club Penguin had closed down or it was hacked. However, all of these are untrue. Disney renewed its registration and the issue was fixed on June 21, 2011.
Depending on the situation, some players received a free 1 week membership added onto their account and/or 10,000 coins for contacting Club Penguin via phone or e-mail.
Effects
Due to this event, an undisclosed amount of Club Penguin employees were laid off.
Trivia
All the documents (including .swfs) were broken from the downtime. They are now fixed.
Gallery
References