Java Delivery Truck Shed
Talk

0
6,418pages on
this wiki
This page is incomplete!
This page is a stub. You can help by expanding it as soon as possible, then removing this tag.
Conjecture
Club Penguin has not given the game, party, room, etc. a name, as such, the name Java Delivery Truck Shed, is purely conjectural. However, it will be used until an official name is released.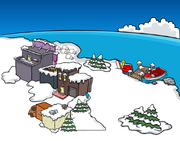 Java Delivery Truck Shed is a mysterious shed which is similar to the Grey Maintenance Shed. It cannot be accessed. It can be seen in Mission #1 of the Secret Missions. Many penguins think that it is the place where the java beans are stored. The Java Delivery Truck is parked here.