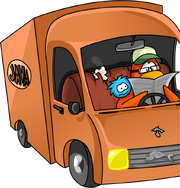 The Java Delivery Truck is used to deliver bags of Java Beans to the Coffee Shop and appears whenever you play Bean Counters. It was once mentioned in the Club Penguin Times in the "Ask Aunt Arctic" column. It is parked at the Java Delivery Truck Shed.
Appearances
The Java Delivery Truck appears in Card-Jitsu as a power card attack.
It appeared in the Ask Aunt Arctic column in issue #147 of the Club Penguin Times, and also featured in the comic section in issue #433.
Its image also appeared in the "Secrets" section of issue #494 of the Club Penguin Times, where tips for Bean Counters were listed.
It can be seen in the background image when entering the play page of Club Penguin's website.
Trivia
Gallery