Not the article you were looking for? Check the disambiguation page.
The Invention Cabinet is a small cabinet that can be seen outside the Gadget Room in Mission's 1-11. The cabinet only has 3 metal gates locking away some of G's failed designs, except for the Solar-Powered Flashlight which actually worked. The only known purpose for the Invention Cabinet, is that Gary the Gadget Guy probably ran out of space in the Gadget Room. In Mission 7 you have to use the secret code to unlock the gate which is holding the Electromagnet 2000. The invention cabinet was destroyed in the Popcorn Explosion.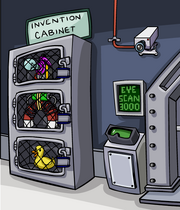 Trivia
Ad blocker interference detected!
Wikia is a free-to-use site that makes money from advertising. We have a modified experience for viewers using ad blockers

Wikia is not accessible if you've made further modifications. Remove the custom ad blocker rule(s) and the page will load as expected.