Introduction to Club Penguin is a welcome interface that was added on December 19, 2013. The feature introduces new players to Club Penguin to some of the features in the game. It has replaced Welcome Solo, which played a similar role since June 2011.
Tasks and Gifts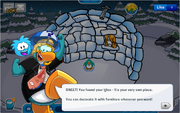 A Tour Guide teaches the player how to use the Map, how to earn coins, and introduces the Clothes Shop, Pet Shop and to the player's Igloo. By going to each one of those places, the new player receives a special gift. Also, the tour guide mentions what party is currently held.
Trivia
The tour guide from the introduction wears the Tour Guide Headband, rather than the standard Tour Guide Hat.
If you e-mail Club Penguin asking for these items nicely, you can receive the items that new players get.
The tour guide's name, later revealed in the Club Penguin Times, is Tourdude.
An additional welcome message is added during parties.
Gallery
SWF