List
This article is a list of things.

Musical Instruments are a series of clothing and furniture items. Some of the clothing items among them allow performing special dances while dancing, or make sound while waving. The main source for musical instruments is the Music Catalog, located at the Lighthouse, where players can buy wearable instruments.
List of musical instruments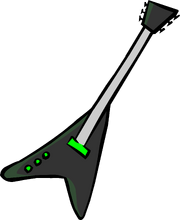 Hard Rock Guitars
Electric guitars
Acoustic guitars
Bass guitars
Double Necked guitars
Furniture instruments
Trivia
Gallery
See also
Ad blocker interference detected!
Wikia is a free-to-use site that makes money from advertising. We have a modified experience for viewers using ad blockers

Wikia is not accessible if you've made further modifications. Remove the custom ad blocker rule(s) and the page will load as expected.