This page is incomplete!
This page is a stub. You can help by expanding it as soon as possible, then removing this tag.
This article is about something that is not from Club Penguin.
This is about something that is not originally from Club Penguin. You can check the equivalent article in their wiki.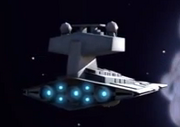 The Imperial Star Destroyer is a vehicle used by the Galactic Empire, that was spotted in the Cinematic Trailer for the Star Wars Takeover. It accompanies the Death Star as it approaches to Club Penguin Island. It was not an actual room.