Ice Hockey
Talk

1
6,407pages on
this wiki
Ice Hockey is an unofficial game that is played in the Super Rink. To play, the player must push the puck inside the goal-post by running at the puck. This game will not give any coins or rewards. Ice Hockey can be played by an unlimited amount of penguins in a game (the maximum being the number of penguins that the room can hold), although it is better to play in even teams. Members may buy hockey gear from the Snow and Sports catalog.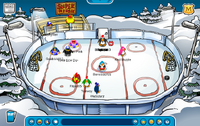 Water Polo
Edit
In the Water Party 2007, Ice Hockey was replaced by water polo; the Ice Rink was replaced by a pool, and the puck was replaced by a water polo ball. This also happened at the Water Party 2008 and Adventure Party 2009.
Soccer Field
Edit
The Ice Rink was replaced by the Stadium from the Penguin Games which were modeled on the Olympics. The soccer ball acts like the usual puck.
Hockey Teams
Edit
Main article: Teams
The "official" hockey teams are red, blue, green, and yellow- however, fan-created colors do exist.