Archived
This article is about something that was for a period of time or is no longer in Club Penguin.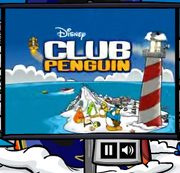 Homepage Adverts are short adverts that the Club Penguin Team made. On the 2005-2008 Club Penguin homepage, there were multiple a low-quality videos over time. However, from 2008-2011, the old video was replaced with a video about how penguins enjoy life on Club Penguin Island.
Trivia
Due to the remodeling of the Club Penguin homepage, the video is no longer on it.
Gallery
SWF
See also