The Halloween Party 2007 was Club Penguin's 3rd annual Halloween Party. Players could, for the first time, get the Pumpkin Basket and hunt for candy hidden all over the island. Like the Halloween Party 2006, a solar eclipse made the island dark for the party. The free items were the Pumpkin Basket and the Halloween Scarf, which was a prize for winning the candy hunt. Night Of The Living Sled was first introduced during this party.
Yellow Puffle
It was during this party that the Yellow Puffle was seen in the wild for the first time. It could be seen in the Forest or on the Ski Hill in which it only appeared for a few seconds. Yellow Puffles became available to members in November of that same year.
Free items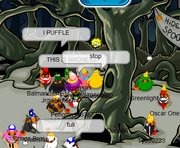 Trivia
Gallery
Rooms
Other
See also
SWF
Music
Ad blocker interference detected!
Wikia is a free-to-use site that makes money from advertising. We have a modified experience for viewers using ad blockers

Wikia is not accessible if you've made further modifications. Remove the custom ad blocker rule(s) and the page will load as expected.