Green Puffle
Talk

0
7,846pages on
this wiki

Green Puffle is a species of puffles. Green Puffles are known to be very energetic, playful and active. They are much like clowns, and are usually seen with a Propeller Cap or a unicycle. The most famous Green Puffle is the Keeper of the Boiler Room. During the Club Penguin Improvement Project you could become one during the April Fools' Party 2008. Green Puffles were one of the four original puffles discovered in November 2005. On September 13, 2010, penguins that have Green Puffles were able to take their puffles into Jet Pack Adventure, as revealed in the 255th issue of the Club Penguin Times. Using the Green Puffle, your penguin can earn more Stamps, but the hardest one to get is that the Green Puffle has to collect the Jet Pack fuel while you are falling to the ground.
History
The green puffles are one of the oldest puffles and the first puffles to be available along with the other three types of puffles. Green puffles were available for member penguins to adopt on March 17, 2006. But non-members can purchase it through the treasure book. Also, along with every single puffle known, you can adopt it for 400 coins.
Characteristics
Attitude: These puffles are always going-going-going. They are very playful as well. They are very energetic and exuberant and are always up to juvenile shenanigans and childish antics. They have an innate sense of humor and are always laughing and giggling. Their nature is simply hilarious itself. They are fun-loving, whimsical, wise-cracking, ironic, prankish, and frisky in behavior. Their zippy attitude is never ending and sometimes they get impatient and bored if they are not doing something constantly. Besides that, they enjoy making up games, playing pretend, and interacting with toys.
Favorite toys: Red Propeller Cap, 3 red balls and a unicycle.
Elite Puffle Items: Propeller Cap.
Special facts: Laughs an average of 14.7 times a day.
Favorite game: Jet Pack Adventure.
Play: Rides around on its unicycle.
Play: Flies around with Propeller Cap.
Bath: Takes a bath, and a hairdryer dries it off.
Favorite Food: Tacos
Gum: Blows a bubble then makes a dog like design with it.
Dance: Hovers with Propeller Cap.
Postcard: Green Puffle riding the unicycle.
Brush: Gives the Green Puffle a temporary hair style.
Puffle Handbook Description
Are experts on unicycles. They are also known for their love of April Fool's parties.
Appearances
Stamps
There are 4 stamps that you can earn in Jetpack Adventure with the green Puffle. Puffle Pilot:Bring a green puffle into the game.(Easy) Puffle Bonus:Your green puffle collects 200 coins.(Medium) Puffle Plus:Your green puffle collects 450 coins.(Hard) Puffle Boost:Your green puffle gets a gas can when you are out of fuel.(Extreme)
Famous Green Puffles
There are four famous Green Puffles. They are:
Trivia
Glitches
Sometimes dances with the propeller hat, but there's a glitch that if you put another hat, he will dance like a red or a blue puffle.
Gallery
Famous Green puffles
Green puffle in-game
Green Puffle actions
Green Puffle Plush Toys
Artwork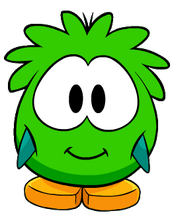 ===Others===