Conjecture
The subject of this article does not have an official name yet, and as such, it has a conjectural title.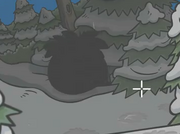 Giant Puffles were first confirmed in a Puffle Party 2012 trailer, where they were sighted by the Puffle Handler. They were eventually available as big Puffle costumes (of all color puffles available at that time) to members during the party, in the Puffle Costumes Catalog, for 400 coins each.
List of Giant Puffle Costumes
Main article: Puffle Costumes
Video
Ad blocker interference detected!
Wikia is a free-to-use site that makes money from advertising. We have a modified experience for viewers using ad blockers

Wikia is not accessible if you've made further modifications. Remove the custom ad blocker rule(s) and the page will load as expected.