Gadget Room
Talk

1
6,422pages on
this wiki
The status of this room is questionable.
The status of this room is currently unknown. More information is required before an accurate description of the room's status can be made.
Gadget Room

Information
Where
Previously: HQ (PSA Missions only)
Currently: Unknown
Opened
August 7, 2007 (Mission 4)
Closed
May 17, 2010 (Mission 11) (presumed)
Mini-Games
None
Room ID
N/A
Tour Description

None
The Gadget Room is a room on Club Penguin located in the HQ. It can only be accessed in the PSA Secret Missions. It was thought to be destroyed in the Popcorn Explosion, but it was seen in Club Penguin Times Issue 390, meaning it was either never destroyed or was rebuilt.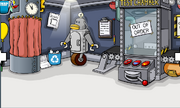 History of the Gadget Room
Edit
Agents were first introduced to the Gadget Room in the fourth mission and they have been having to use the equipment in there since then. To enter the Gadget Room, you need to first go though the Eye Scan 3000, but only G or anyone with his old glasses can pass. The main invention you will see is a life preserver shooter and the Thingamajig (3000, 3001, 3002, etc.), a shoe that rings like a phone, and a mallet which has a boxing glove that comes out. There are also other inventions by G His model sled from G's secret mission in the Gadget Room. They also have the old (PSA) Spy Phone on a shelf between the AC 1000 and the Jet Pack. In mission #7 replacing the model Sled is an older version of Aqua Grabber. In mission #6, G invented the Crab Translator 3000, which translated Klutzy's "crab language". This room eventually got destroyed along with the PSA in the Veggie Villian Mission (Mission 11) because of Herbert's Popcorn bomb.
The Gadget Room door is the door featured on the CPIP home page, requiring you to click on the Eye Scan 3000 to enter. This is now disabled.
On the wall there is a message with a sign saying "This message will self destruct in 9641398763 seconds" and the seconds clock counting backwards.