Rockhopper Map (archive)
6,421pages on
this wiki
Forum page
Archived
This article is about something that was for a period of time or is no longer in Club Penguin.
Community Page
This article is a page for the Club Penguin Wiki's community. Have fun editing!
In the lighthouse on the wall there's a map, near the beacon sign. Could it be the map to rockhopper island? or the cove map? or even a map of club penguin? if it is the rockhopper island map it might be important in contacting rockhopper with the aqua grabber. please put your ideas. --4th hale 18:08, 30 March 2008 (UTC)
I think it's the blueprints for the Save the migrator project.


I just checked it out-it's the berg.I'm pretty sure RI is to the upper left/SE  Dilljyn 
It looks like it goes from the Iceberg to the Dojo? EDFan12345 isYour Master! TALK TO YOUR MASTER!
I've also found another one in the hold. note that there is a small chunk of ice that resembles the burg to the right. Im pretty sure it's a map to club penguin,so the beginning would probably be RH island.

unfortunately (or maybe on pupose) a bunch of barrels cover the starting point.
4th Hale

Ooh, interesting...DillyDallyForum 06:37, 11 April 2008 (UTC)
I agree on that. 4th Hale 16:03, 13 April 2008 (UTC)
PS. Did you notice something strange about the way Rockhopper came to the beach when the migrator hit the iceberg?

Note that rockhopper steers towards the iceberg AND took the longer route, something unusual for a person in a lifeboat. the picture isnt very good but i hope you understand it.

Here's a possible map. Dancing Penguin 13:45, 29 May 2008 (UTC)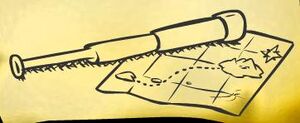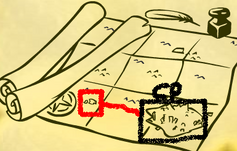 I've figured out a possible way to get to Rockhopper Island. First, start drilling on the floor of the Mine for a little while. Then, I think that it might crack below you, so put jump off of your drill and put it away, then jump down the hole, andthere might be a pathway at the bottom. Go where it leads. At the end, you might find a ladder. Climb it. It might lead to.......Rockhopper Island! --Puffleman 17:50, 17 August 2009 (UTC)Puffleman
See Also