Not the article you were looking for? Check the disambiguation page.
Flags are special items in Club Penguin, and as the names suggest, are representations of flags of real-life countries. They are similar pins in that they are able to be placed in the upper left corner of a Player Card, although unlike pins, they are always available, and not hidden. They each cost 20 coins each, and are located in the back of the Penguin Style catalog. In the past, only players with membership could buy flags, although as of February 2010, this was changed, and now all players can buy flags.
History
Trivia
List of Flags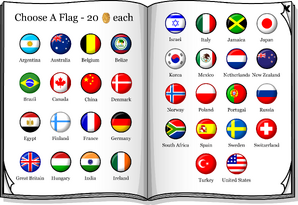 The following list lists the flags by their alphabetical order:
Gallery
Names in other languages
| Language | Name |
| --- | --- |
| Portuguese | Bandeiras |
| French | Drapeaux |
| Spanish | Banderas |
| German | Flaggen |
| Russian | Флажки |
See also
Ad blocker interference detected!
Wikia is a free-to-use site that makes money from advertising. We have a modified experience for viewers using ad blockers

Wikia is not accessible if you've made further modifications. Remove the custom ad blocker rule(s) and the page will load as expected.