Flag
Talk

5
8,629pages on
this wiki
Not the article you were looking for? Check the disambiguation page.
Flags are a type of pin that players can collect, however, they are never hidden. All of the flags are found in the back of the Penguin Style catalog. Players usually buy them to show where their country of residence is or where they are originally from. They are placed in the top left hand corner of a Player Card where a pin would usually be. They used to be available to members only for 20 coins each. However, as of February 4, 2010, all penguins, including non-members, can buy flags.
History
Trivia
An Antarctica flag exists, but this is a bait item which cannot be obtained and attempting to get it will get you banned.
Every so often, more flags are added.
The flags' name does not include the word "Flag" in it. Therefore, when buying a flag (e.g. the Italian flag), the buying message strangely says "Would you like to buy Italy for 20 coins?".
There was a glitch in 2007 which often occurs when a penguin's membership runs out; if the penguin was wearing a flag at the end of its membership, the flag stays on their Player Card. This glitch no longer works as flags can now be purchased by any penguin.
Different flags were used to code a message written by Herbert in issue #238 of the Club Penguin Times where the flags correspond to the first letter of the country they stand for. [1]
List of Flags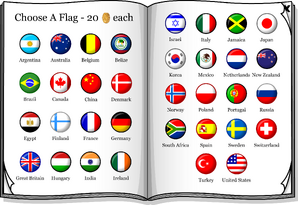 The following list lists the flags by their alphabetical order:
Gallery
References
See also