Not the article you were looking for? Check the disambiguation page.
Flags are special items in Club Penguin, and as the names suggest, are representations of flags of real-life countries. They are similar pins in that they are able to be placed in the upper left corner of a Player Card, although unlike pins, they are always available, and not hidden. They each cost 20 coins each, and are located in the back of the Penguin Style catalog. In the past, only players with membership could buy flags, although as of February 2010, this was changed, and now all players can buy flags.
History
Trivia
An Antarctica flag exists, but it is a bait item which cannot be obtained, and attempting to obtain it results in a ban.

This is likely due to the fact Antarctica has no official flag, as it has no government.

There was a glitch in 2007 which often occurred when a penguin's membership runs out; if the player was wearing a flag at the end of its membership, the flag stays on their Player Card. This glitch no longer works as flags can now be purchased by any penguin.
Different flags were used to code a message written by Herbert in issue #238 of the Club Penguin Times where the flags correspond to the first letter of the country they stand for.[1]
List of Flags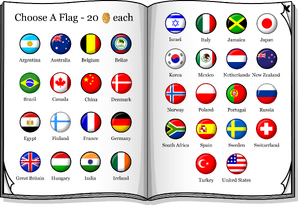 The following list lists the flags by their alphabetical order:
Gallery
References
See also