Fishburger
Talk

0
6,420pages on
this wiki
This page is incomplete!
This page is a stub. You can help by expanding it as soon as possible, then removing this tag.
Not to be confused with Fish Dogs.
A Fishburger is a kind of food found in Club Penguin. During the Water Party 2007 and Water Party 2008, the Fishburger stand was located at the Beach. At the Fall Fair 2008 and The Fair 2009, the stand was located at the Mine.At the The Fair 2011 and the The Fair 2012 and the stand was located in the Ski Village.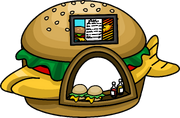 It is a normal burger but with fish in it instead of beef.
Appearances
Edit
A Fishburger stand always has appeared in the Fall Fairs
In Secret Mission 8, if you go in the Gadget Room, you will see a microwave. If you click on it, it will open and reveal a Fishburger inside that was G's lunch.
It appeared in Club Penguin Times in Issue #98.
Some penguins went in the stand and pretended to sell Fishburgers.