Fire Suit
Talk

0
6,422pages on
this wiki
This page needs an infobox.
This page is missing an infobox. Please add an infobox suited to the article, by clicking here.
Cleanup
This page needs a cleanup. You can help by cleaning it up (i.e., fixing coding, correcting spelling and grammar, etc). Please make sure it meets the Manual of Style guidelines.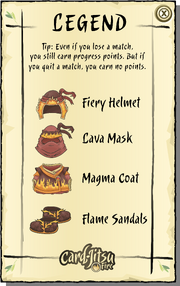 The Fire Suit is a clothing set comprised of four items, respectively, the Flame Sandals, Magma Coat, Lava Mask, and Fiery Helmet. It can only be obtained by playing the game, Card-Jitsu Fire.
If you dance with your full suit on, you will produce fire with your flippers. When you wave, you will disappear (like the Cloud Wave Bracelets, but with fire). The Fire Amulet does not have to be worn with the suit.
The Objective
Edit
To earn all four pieces, you must play against other penguins, many times, in Card-Jitsu Fire; identical to the way Card-Jitsu works.
The Fire Suit might have been different. On the real life Card-Jitsu Fire Card called "FIRE DOJO SKETCH" it said in the card description it said "Here the original sketch of the Fire Dojo from May 2009. In the finished version we added a tub of Hot Sauce, and changed the outfit on the statue a bit!"
These are the items' IDs: