Finger Powered Laptop
Talk

0
6,407pages on
this wiki
This page is incomplete!
This page is a stub. You can help by expanding it as soon as possible, then removing this tag.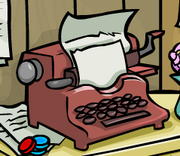 The Finger Powered Laptop was an invention created by Gary the Gadget Guy. It was first seen in PSA Mission 9: Operation: Spy & Seek in the Lodge Attic.
When clicked on it, it says: This looks like G's Finger Powered Laptop. indicating that it is an invention by Gary the Gadget Guy.
It looks like a 1950's typewriter what was used for writing letters, or stories.
Aunt Arctic uses a similar device.