Emoticons
Talk

13
7,849pages on
this wiki
Emoticons or Emotes are faces and symbols that can show how Penguins feel. They usually appear in speech bubbles accessed by clicking on the "Emote Menu" or by pressing "E", followed by various keys what are usually the first letter of the noun.
List of Emotes
Main article: List of Emoticons
The "Skull emotion" was removed, along with the heart emote [1] - however, due to popular demand, the heart emote came back a month later. According to Club Penguin: "There are plenty of other ways to show you don't like something besides using the skull." One of them could be the tongue emote. There is also a special sun emote which can be found by pressing E and D together. There is also a special tooting emote which can also be found by pressing E and T.
Emoticon and Action Shortcuts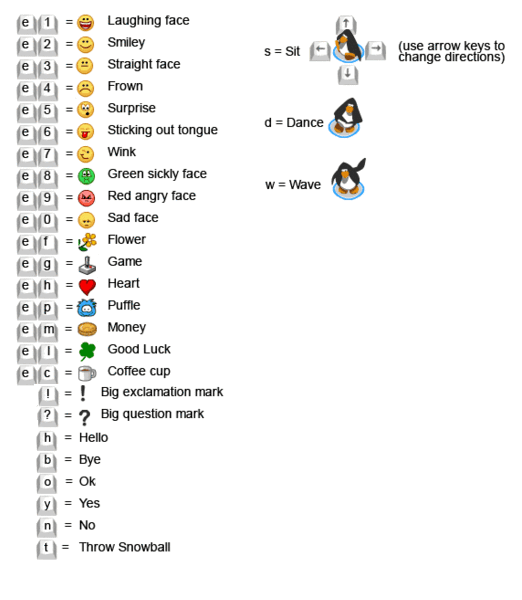 Trivia
All of the emoticons (excluding party emoticons) were designed by Rsnail.
There is an Emotes Background.
There are some fan made emotes made using the keyboard.
On November 30, 2007, the Skull emote was removed because penguins were using the skull in a bad way, like threatening of murder or reference to death. The Skull can now only be seen on the Ignore list button.

The Heart emote was also removed as well, however, it returned a month later.

Another emote, the Laughing Emote (or the Smile Emote) was revamped on October 12, 2007, as the old one looked very similar to another emote on another website.[2]
If ten penguins use the smile Emoticon they will get a Stamp.
The Cookie emote, the Falalala emote, the Clapper emote, the Clock going backwards emote, and the Police Siren emote were animated emoticons.
The new look of emoticons will only be used in art, starting with the Prehistoric Party 2013's login screen.
The old laughing emotion from Penguin Chat, Penguin Chat 3, and Club Penguin looked like a happy face from yahoo.com.
The foam finger emoticons from the Monsters University Takeover have 6 fingers.
The old laughing emotion is hidden in the Membership page of Club Penguin.
For the Muppets World Tour, all the 'face' emotes had a 'ball' shaped nose.
Before the Muppets World Tour, if you went inside the pizza parlor and did the pizza emote, the pizza emote would show a pizza with some of it eaten.
Gallery of Emoticons
Special emoticons
Emoticons with new design
See also
SWF
Sources and References