If you are searching for the machine that made the Earthquake, see Earthquake Driller.
The earthquake was an unnatural event caused by Herbert P. Bear using his Earthquake Driller in June 2008. He damaged much of central Club Penguin Island and some of the underground rooms.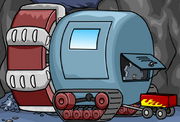 Damage
Trivia
It was the first recorded earthquake in Club Penguin's history.
Gallery
Other
See also