Dojo Courtyard
Talk

8
6,420pages on
this wiki
Dojo Courtyard

Information
Where
Outside the Dojo.
Opened
November 14, 2008
Renovated
May 23, 2013
Closed
Still open
Mini-Games
None
Room ID
321
Tour Description

This is the Courtyard. It was covered in snow for many moons! Enter the Dojo and take the path of the Ninja.
The Dojo Courtyard is the entrance to both the Dojo and the Ninja Hideout. The door to the Ninja Hideout is behind the stone tablet with Japanese writing written on it. You can enter the wooden door if you move your cursor. It is accessible by the Map or the EPF Spy Phone.
Dojo Exterior
Edit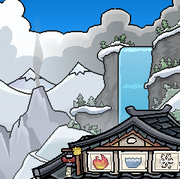 The Dojo Exterior was first covered with snow for many years. After the Halloween Party 2008, part of the Dojo was struck by lightning, producing a hole in the top left corner which you would either walk up to or click to enter the Dojo Exterior. The name of this covered-up snow was discovered when the room is loading it said the Dojo Exterior. But when you would click 'Find' on someones player card on your buddy list, it would say Dojo Roof. The Dojo Exterior had a mysterious gray-colored Penguin digging up snow. His name was "The Sensei", however officially now known as Sensei, which means "master" in Japanese and is possibly used in kung-fu and other Japanese martial arts.
The Dojo Courtyard has a double-door entrance to the Dojo, even though inside the Dojo, there is only one door.
It was unknown where the stairs at the base of the Dojo lead, but it was later confirmed that they lead to a zig zag shaped mountain that ends close to civilization.
Unlike most rooms, there is no way to reach this room without using the Map.
There is a card featuring it. However, it is not a power card.
It used to be called the Mystery Mountain.
There are White Puffle statues in the exterior, because the pose is the same as a white puffle sleeping.
The red carpet leading to the Ninja Hideout and the tiles above the door leading to the other dojos were added during the Card-Jitsu Party 2011.
There was a glitch that the Dojo music was playing in this room when the Club Penguin rooms were updated after Operation: Blackout.
Since the Card-Jitsu Party, by clicking one of the elements above the Ninja Hideout entrance three times, you would go to the corresponding Dojo for that element.
This room features a video player that plays the current Card-Jitsu video. It will be removed after the Card-Jitsu Party 2013.
The Dojo Courtyard will get a new look during the Card-Jitsu Party 2013.
The Dojo itself has been covered in snow twice, once from 2005 to November 2008 and once in May 2013.
Graphical Designs
Edit