This page is incomplete!
This page is a stub. You can help by expanding it as soon as possible, then removing this tag.
Conjecture
The subject of this article does not have an official name yet, and as such, it has a conjectural title.
Not the article you were looking for? Check the disambiguation page.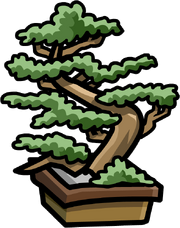 The Dojo Bonsai Tree is a tree found in Club Penguin. It can be found on the right of Sensei in the Dojo.
Trivia
See also
Ad blocker interference detected!
Wikia is a free-to-use site that makes money from advertising. We have a modified experience for viewers using ad blockers

Wikia is not accessible if you've made further modifications. Remove the custom ad blocker rule(s) and the page will load as expected.