Dance-A-Thon
Talk

0
6,413pages on
this wiki
Archived
This article is about something that was for a period of time or is no longer in Club Penguin.
The Dance-a-Thon was the official name of the Member Party that occurred from January 15 to January 20, 2009. Also, along with the party, Club Penguin launched the new mini-game Dance Contest. The decorated rooms were the Night Club, the Dance Lounge, and the new Dance Club Rooftop. The Dance Club Rooftop was only accessible during this party, however it has come back in the Music Jam 2009 and the Music Jam 2010. Also, like many other popular Parties, it was extended until Tuesday, January 20, 2009.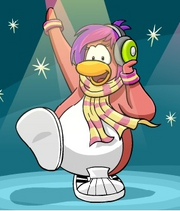 Free Items
Edit
This was the first appearance of DJ Cadence.
Many penguins claim that when the metal pad on the Dance Club Rooftop was clear of any penguins, Cadence would come. However, Billybob later stated this was false.
In the Night Club, there was a sign that listed the Penguins who had just entered the room.
It is the only Member Party to have ever been extended.
This was the first time the Dance Club Rooftop could be accessed.
So far, it is the only one of its kind.