Non-Meetable Character
This article is about a character on Club Penguin that you cannot meet.

Conjecture
The subject of this article does not have an official name, and as such, it has a conjectural title. This name will be used until an official name is revealed.
This is not to be confused with the original online version of Dancing Penguin. This article is about the DS version of Dancing Penguin.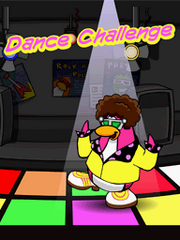 The DS Dancing Penguin is a character seen in the game, Club Penguin: Elite Penguin Force for Nintendo DS. They are seen in the back of the Night Club dancing. If you click on them with your stylus, they will challenge you to a Dance Challenge. They are a Pink Penguin with the Disco wig, a bright yellow vest, green shades, and checkered shoes. DS Dancing Penguin is only in a DS game, not on the online virtual world of Club Penguin.
Dancing Penguin's Role
Trivia
All of the items that they wear are unknown except for The Disco.
See also