Explore

Club Penguin News

add

-

old
Hello penguins!

The Inside Out Party will begin soon and Gary the Gadget Guy will be waddling around to help penguins so they don't get lost in Rockhopper's mind.




Here are some times you can find Gary …

Read more >

Hi penguins!

Captain Rockhopper was found on the Beach disoriented, but that's no excuse for some good meet-up times with the captain himself!




Here be some meet-up times for ye:

Thursday, July 16

Read more >

Hi Penguins!

Aunt Arctic will be visiting for the Festival of Snow that starts next week to check out all the AMAZING snow sculptures, but she will also waddle around this week! Isn't that fantastic?

H…

Read more >
Penguin of The Month

vote
We have a winner, chosen by our voters! Our Penguin of the Month is Penguin-Pal, winning with 4 overall votes! Congratulations!
"

Penguin-Pal joined the wiki over 4 years ago back in May 2011. He has been dedicated to the wiki constantly throughout his time here. He has continued to contribute a lot and has worked so hard on many things in the wiki particularly on the MediaWiki and furniture sprites for articles. He has also created a lot of useful resources including a Pin Tracker and a Player Card Generator which many of our users use. Keep up the great work Penguin-Pal, you're absolutely amazing!

"
 

Featured Image

vote
This month's picture:
---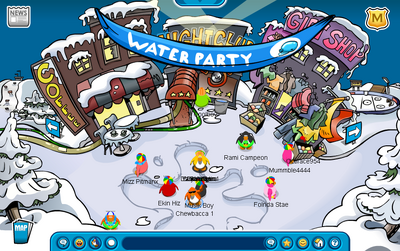 Template Team
The Template Team is a small group of users from the wiki that helps users create templates, design user pages, and much more.


You can view the team's page Here, where you can ask for help in almost anything you need.
Check out these pages

Current Field-Op old

Weekly Polls
Penguin Poll
How does the Inside Out Party make you feel overall?
Other Items


A list of all available free items can be found here.

Site News

add

- old
Hey guys,

Today I announced a movement called the #31DaysforCP Movement and I thought that…

Read more >

Hey Everyone! :)

As you know, our Wiki has it's very own Facebook Page that is managed by …

Read more >

Hi everyone,

Before starting with the wiki matter, I would like to wish everyone a happy n…

Read more >
Club Penguin™ is a registered trademark of Disney Online Studios Canada Inc. The Club Penguin Wiki is in no way affiliated with Disney, or Club Penguin itself.