Club Penguin currently has many social media accounts in possession, including a YouTube channel, a Facebook account, Soundcloud account and a Twitter account. They usually announce videos, pictures, advertisements, etc.
Twitter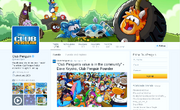 Club Penguin's Twitter account is mainly used to tweet sneak peeks, announce new videos, new blog posts, answering questions, and giving updates about Club Penguin.
Trivia
Club Penguin's first tweet was made in 2012.
Before 2012, another user had a Twitter account with the username "@clubpenguin", but as this was inactive, and Club Penguin "asked nicely," Twitter gave the ownership of the username to Club Penguin.
Polo Field, Spike Hike, Ninja, Megg, and Daffodaily5 each have their own Twitter accounts, and have to comply with a strict following rule, which can be bended in some cases.
YouTube
Club Penguin's YouTube Channel is where the Club Penguin Team posts a variety of videos, including The Spoiler Alert, #WaddleOn, Club Penguin Shorts, and occasionally sneak peeks. Their channel was created in 2009.
Trivia
They update their icon and YouTube background every time there is a new party.
Some videos are exclusive, meaning they only appear on their YouTube channel.
Gallery
Facebook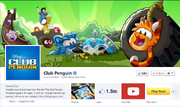 Club Penguin's Facebook Account is where the team posts a variety of videos, blog articles, and occasionally sneak peeks. Their account was created in 2013.
Trivia
Their Facebook page shows a timeline of Club Penguin.
Soundcloud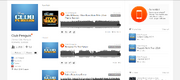 Club Penguin's SoundClound account is used to post most of their songs for either music videos or in-game music. Albums are also usually posted.
Trivia
They usually post music before released in game.
External links