Club Penguin: Game Day!


The box art for Game Day.
Information
Platform
Nintendo Wii
Developer
Artoon
Publisher
Disney Interactive Studios
ESRB rating
Comic Mischief
Genre
Mini-Game Compilation
Date released
September 17, 2010 - Australia, New Zealand
September 21, 2010 - North America, Latin America
September 24, 2010 - UK
Club Penguin: Game Day! is a Club Penguin game for the Nintendo Wii. The game can be played by up to 4 people at a time. The game was put on the ESRB site in April 2010[1] and officially announced on June 10, 2010. You compete in 12 new events. This is the third overall Club Penguin video game and the first Wii video game. You get a code along with the game to get 4 free backgrounds of the teams and 2,500 coins.
As of May 20, 2014, stamps for Game Day! can no longer be earned in Club Penguin due to the closure of Nintendo Wi-Fi Connection servers.
Gameplay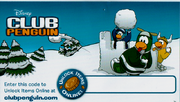 In the game, players create and customize their own penguin and compete in a variety of challenges. Challenges include Java Sack, Bean Balance, Fast Freeze, Sled & Slide, and Sumo Smash. Each time players beat a challenge, they conquer some territory on the island. The ultimate goal for players is to conquer as much territory as possible. You can also earn 14 stamps. (Red Win, Blue Win, Green Win, Yellow Win, Remote Upload, White Puffle, Conquer the Island, Puffle Paddle, Bean Balance, Collector, 2 vs. 2, Sumo Smash, 2 vs. 2 Max, and Goalie)
There are four teams in the game: the Yellow Team, the Green Team, the Blue Team, and the Red Team. Characters like Gary, Cadence, Aunt Arctic, Rory, and Rookie make a cameo in the game. Prior to 2014, it was possible to transfer your coins, items, and stamps to your online account.
Games
Game Series
Zone Challenge
Recolor Sign (Blue, Red, Yellow, Green, Dock)
Funny Faces (Red, Blue, Yellow, Green, Town)
Snowball Fight (Blue, Yellow, Green, Snow Forts)
Ice Sculpture (Red, Blue, Green, Beach)
Finding Funny Things (Green, Ski Village)
Target Shooting (Blue, Ski Village)
Snowman Head (Red, Ski Village)
Copy Jeff The Ref (Yellow, Ski Village)
The Dancing Party (Green, Yellow, Ski Hill)
Making a Giant Snow Cone (Red, Ski Hill)
Giant Balloon Challenge (Blue, Ski Hill)
History
ESRB Rating
The game and its rating were first found on the ESRB site on April 2010, but it was taken down before May since the game was not announced at that time. The descriptor was put up again on July 2010.
Blog Posts
Click here for all blog entries by the Club Penguin Team about the game.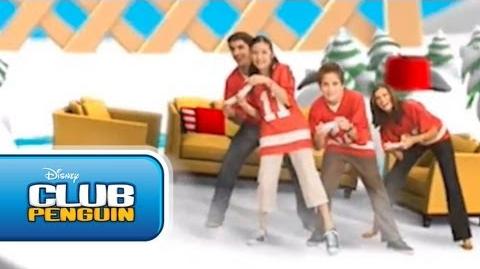 Interviews
"
Club Penguin has always maintained a really strong emphasis on social, family fun and the value of working together. Moving onto the Wii platform lets us offer parents a great opportunity to connect with their kids in the comfort of their own living room around an active game that's participatory, cooperative and a lot of fun for everyone, and that's something we're really excited about[2]
"
 

— Lane Merrifield (Billybob)
"
As the Club Penguin phenomenon continues to grow, it makes sense to bring the brand to Wii. Club Penguin Game Day! combines the distinct look and feel of the Club Penguin virtual world with competitive games that are easy to pick up and play using the Wii Remote.[2]
"
 

— Craig Relyea, Disney Interactive Studios
Music
Main article: Club Penguin: Game Day!/Music
Gallery
Main article: Club Penguin: Game Day!/Gallery
References
External links