This page is incomplete!
This page is a stub. You can help by expanding it as soon as possible, then removing this tag.
Chillin' with Friends


The front cover of the book.
Information
Date released
July 30, 2009
Unlocks items?
No
Chillin' with Friends is a Club Penguin Activity Book.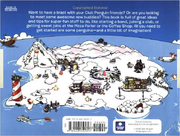 Information
ISBN: 978-0-448-45095-7
Publisher: Snowball Press
Other Information
Suggested Prices: $4.99 US, $5.99 CAN
Trivia
The back cover contains a very detailed version of the map.
It is published by the Snowball Press.
Ad blocker interference detected!
Wikia is a free-to-use site that makes money from advertising. We have a modified experience for viewers using ad blockers

Wikia is not accessible if you've made further modifications. Remove the custom ad blocker rule(s) and the page will load as expected.