Card-Jitsu Party 2011 was a party that began on November 24th 2011 and ended on December 8th 2011. Sensei visited and gave away his autographed background. According to the login screen, non-members were allowed to play Card-Jitsu Fire and Card-Jitsu Water until December 6th, completing their Ninja training. The main location decorated for this party was the Dojo and the Dojo Courtyard.
Bugs and Glitches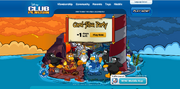 Free Items
Trivia
Gallery
Sneak Peeks
Homepage
Login Screens
Advertisements
Construction
Rooms
Other
Video
External links
SWF
Music
Ad blocker interference detected!
Wikia is a free-to-use site that makes money from advertising. We have a modified experience for viewers using ad blockers

Wikia is not accessible if you've made further modifications. Remove the custom ad blocker rule(s) and the page will load as expected.