Card-Jitsu Belts are clothing items you get as you progress to the ninja status. There are nine different belts to earn and collect.
When a penguin gets a Black Belt, they have a chance of beating the Sensei in Card-Jitsu. When they defeat Sensei, they become a ninja. However, not many are ninjas because it takes a long time to get to Black Belt. Many penguins give up fighting the Sensei, even though you have to fight and lose to him several times before you become a ninja.
Gallery
Trivia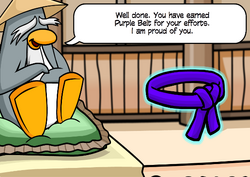 In the real world, there are far more belts such as Dan belts.
Even if you always lose, the losing percentage will keep adding up until you get your next belt.
The amount of wins you need to get increases by one every belt you get.
See also
SWF