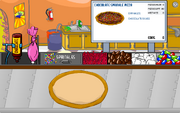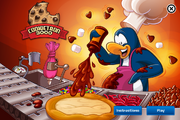 The Candytron 3000 (also known as the Cookietron 3000 on the Club Penguin App) is the secret level hidden in the Pizzatron 3000 mini-game in the Pizza Parlor. It swaps typical pizza ingredients to candy-related ingredients, although it sticks to the same principles of the original version. It was a mistake invention by Rookie.
To bring up the secret level, click the red lever close to the left to switch it to the pink wrapper candy at the screen before you begin playing. Everything is a variation of the original Pizzatron 3000 with anchovies and squid becoming jelly beans and marshmallows. Hot sauce and tomato sauce become chocolate sauce and pink frosting.
Trivia
Gallery
See also
Ad blocker interference detected!
Wikia is a free-to-use site that makes money from advertising. We have a modified experience for viewers using ad blockers

Wikia is not accessible if you've made further modifications. Remove the custom ad blocker rule(s) and the page will load as expected.