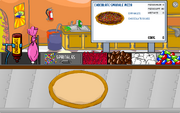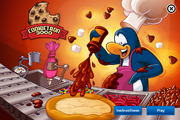 The Candytron 3000 (also known as the Cookietron 3000 on the Club Penguin App) is the secret level hidden in the Pizzatron 3000 mini-game in the Pizza Parlor. It swaps typical pizza ingredients to candy-related ingredients, although it sticks to the same principles of the original version. It was a mistake invention by Rookie.
To bring up the secret level, click the red lever close to the left to switch it to the pink wrapper candy at the screen before you begin playing. Everything is a variation of the original Pizzatron 3000 with anchovies and squid becoming jelly beans and marshmallows. Hot sauce and tomato sauce become chocolate sauce and pink frosting.
Trivia
The Candytron 3000 was accidentally created by Rookie, who was trying to hide his candy, but forgot to flip the switch to normal pizza.
On the Pizzatron 3000, you get five coins for each pizza you make. On the Candytron 3000, you get ten coins.
The Candytron 3000 is the candy version of Pizzatron 3000.
It is harder than Pizzatron 3000, but you earn twice as many coins as you would per pizza in Pizzatron 3000.
When you ask where your buddy is when they are playing Candytron 3000, it will say that he/she is making pizzas.
A similar hidden candy level is in Bean Counters.
There is a stamp you can obtain by playing this level.
In the EPF DS game's minor mission, "Leaning Order of Pizza", one of the pizzas you have to deliver is a chocolate pizza with marshmallows and jellybeans.
Unlike on the computer, Candytron is called Cookietron on the Club Penguin App and has different shapes of cookies, such as penguins and stars.
Gallery
See also
Ad blocker interference detected!
Wikia is a free-to-use site that makes money from advertising. We have a modified experience for viewers using ad blockers

Wikia is not accessible if you've made further modifications. Remove the custom ad blocker rule(s) and the page will load as expected.