Candytron 3000
Talk

0
6,424pages on
this wiki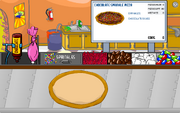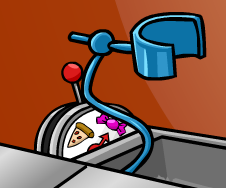 The Candytron 3000 is the secret level hidden in the Pizzatron 3000 mini-game in the Pizza Parlor. It swaps typical pizza ingredients to candy-related ingredients, although it sticks to the same principles, you still make pizzas, and it is still Gary's invention.
To bring up the secret level, click on the red lever closest to the right and you should see that it has a small red arrow pointing to a small picture of a pizza above it.
Next to the
pizza
, there will be another little picture, but this time the picture is of what appears to be a piece of individually wrapped hard candy. Switch on the red lever and press start and you should have the secret level.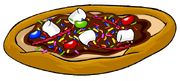 The Candytron 3000 was made by Gary the Gadget Guy, as it is part of Pizzatron 3000.
On the Pizzatron 3000, you get five coins for each pizza you make. On the Candytron 3000, you get ten coins.
The Candytron 3000 is the sweets version of Pizzatron 3000.
It is harder than Pizzatron 3000, but you earn more coins than Pizzatron 3000.
When you ask where your buddy is when they are playing Candytron 3000, it says he/she is making pizzas.
A similar hidden candy level is in Bean Counters.
There is a stamp to play this level.
In the EPF DS game's minor mission, "Leaning the Order of Pizza", one of the pizzas you have to deliver is a chocolate pizza with marshmellow and jellybeans.