Bunch of 10 Carrots
Talk

2
6,423pages on
this wiki
This page is incomplete!
This page is a stub. You can help by expanding it as soon as possible, then removing this tag.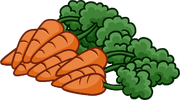 10 Carrots is a Puffle food item. It costs 40 coins to buy in the Puffle "Pet Furniture: Love Your Pet" catalog, and is sent to the Puffle interface. To feed them to your Puffle, go to your igloo and click on your Puffle, then click on the food bowl to show your food items. Drag the 1 of the 10 carrots to your Puffle and it will eat them.