Boombox
Talk

0
7,848pages on
this wiki
For Cadence's version, click here.
The Boombox is a members-only hand item that is only available in Club Penguin. It was a free party item, despite being only available to members. If players dance with the Boombox they will breakdance.
History
Trivia
Invention
The Boom Box is another one of Gary's inventions. It does not really have a purpose, it can only self-destruct. It also appears in Card-Jitsu as a special attack animation. In the fourth mission of Club Penguin, the Boom Box appears and it appears to be like a stereo, but once you turn it on, it explodes.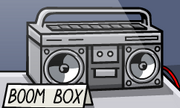 Invention Trivia
The Boom Box was a free item in the Dance-A-Thon party and the Music Jam 2009, but it was named Boombox. Unlike the PSA boom box, it does not explode. Instead, your penguin will break dance.
The Boom Box in the Gadget Room is nothing like the clothing item.
The Boom Box's name is literal, as it literally "goes boom."
The Boom Box is sometimes seen when Cadence is around dancing with it.
Gallery
See also
SWF