Not the article you were looking for? Check the disambiguation page.
The Boombox is a hand item in Club Penguin. Members could obtain it for free at the Night Club during the Dance-A-Thon, or at the Night Club Rooftop during the 2009, 2010, and 2011 Music Jams. Members could also obtain it for free at the Music Jam 2016 via the Music Jam 2016 interface.
History
Party
Location
Available from
Available until
Dance-A-Thon
Night Club
January 15, 2009
January 20, 2009
Music Jam 2009
Night Club Rooftop
July 17, 2009
July 26, 2009
Music Jam 2010
July 8, 2010
July 19, 2010
Music Jam 2011
June 16, 2011
July 5, 2011
Music Jam 2016
Music Jam 2016 interface
November 2, 2016
November 30, 2016
Appearances
Trivia
Cadence is the only penguin who can breakdance without a boombox, but she can breakdance with the boombox with her clothes on.
This boombox is related to the exploding one in the Gadget Room.
This invention was made by Gary for the music parties.
Invention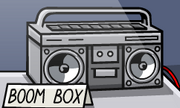 The Boom Box is another one of Gary's inventions, which looks different than the item version. It does not really have a purpose, it can only self-destruct. It also appears in the special attack of the GADGET ROOM card in Card-Jitsu. In the fourth mission of Club Penguin, the Boom Box appears and it appears to be like a stereo, but once you turn it on, it explodes.
Gallery
Names in other languages
| Language | Name |
| --- | --- |
| Portuguese | Som Portátil |
| French | La Boombox |
| Spanish | Grabador |
| German | Beatbox |
| Russian | Бумбокс |
See also
SWF
Ad blocker interference detected!
Wikia is a free-to-use site that makes money from advertising. We have a modified experience for viewers using ad blockers

Wikia is not accessible if you've made further modifications. Remove the custom ad blocker rule(s) and the page will load as expected.