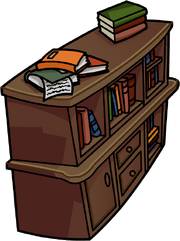 The Book Shelf was an area of the Book Room where penguins could read books. The books on the shelf consisted of official stories, yearbooks, or user-submitted stories. Books on the shelf could be read at any time by all players.
Update timeline
Books
These were all the books the Library had:
Temporary books
These books were temporarily available during the Christmas Party 2008, Holiday Party 2010, and Holiday Party 2011, and have not appeared otherwise.
Trivia
Glitches
On the first day when the Yearbook 2012-2013 was added, the title on the spine cover on the Yearbook 2011-2012 was changed to 2012-2013 instead of 2011-2012. This glitch was later fixed.
Gallery
Other
See also
SWF
References
Ad blocker interference detected!
Wikia is a free-to-use site that makes money from advertising. We have a modified experience for viewers using ad blockers

Wikia is not accessible if you've made further modifications. Remove the custom ad blocker rule(s) and the page will load as expected.