Not the article you were looking for? Check the disambiguation page.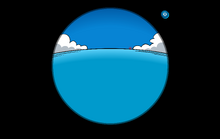 The Beacon Telescope, commonly known as the Telescope, is located at the Beacon and is mainly used for signalling the return of Rockhopper. Sometimes, other things are washed ashore, such as blocks of ice, and once a message in a bottle. There is a rumor that if you look through it for a considerable amount of time, many humorous events may happen, depending if a party is happening or not.
Parties
Sound effect
Since May 22, 2014, a sound effect was added to the telescope. It is played whenever the telescope interface is opened.
| | |
| --- | --- |
| Open | |
Trivia
Gallery
Telescope views
As seen from the Beacon
See also
SWF
Migrator
Ad blocker interference detected!
Wikia is a free-to-use site that makes money from advertising. We have a modified experience for viewers using ad blockers

Wikia is not accessible if you've made further modifications. Remove the custom ad blocker rule(s) and the page will load as expected.