This Article is Out of Date
This article needs to be updated. One or more events have happened, and are not included.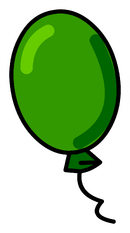 Not the article you were looking for? Check the disambiguation page.
Balloons
are a common decoration at most
parties
around
Club Penguin
. They come in a variety of shapes, sizes, and colors.
Parties
Pins
There have been six Balloon pins:
Appearances
Items
Ad blocker interference detected!
Wikia is a free-to-use site that makes money from advertising. We have a modified experience for viewers using ad blockers

Wikia is not accessible if you've made further modifications. Remove the custom ad blocker rule(s) and the page will load as expected.