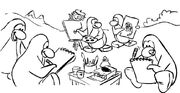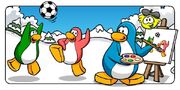 Art for Haiti was a contest announced by Billybob on the What's New Blog on August 14, 2010.[1] As they raised enough money for a school in Haiti, a mural was needed for their playground. Participants needed to draw a picture following the rules below. On August 20, 2010 the submissions were opened.[2] On August 25, 2010, the Top 4 artworks were chosen, as you can see below, and a poll was made for penguins to choose their favorite. On August 27, 2010, votes were counted, with option A having 8%, option B having 31%, option C having 4% and option D having 57%, crowning Mickey1216 the winner of the competition.[3] The final look of the mural was later revealed on the What's New Blog.[4]
Rules
Do:
Draw between two and four penguins playing together.
Draw the picture taking place outdoors.
Draw penguins with only one or two simple items. Like hats and scarves!
Try to use five colors or less.
Use any art style you like! Pencils, pens, and paints are great!
Don't:
Include any personal information (like an address).
Use any words.
Use anyone else's pictures.
Draw large or complicated items. (No Squidzoids!)
Gallery
Top 4 artworks
Other
See also
References
Ad blocker interference detected!
Wikia is a free-to-use site that makes money from advertising. We have a modified experience for viewers using ad blockers

Wikia is not accessible if you've made further modifications. Remove the custom ad blocker rule(s) and the page will load as expected.