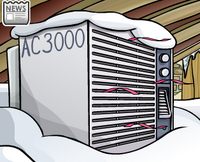 The Air Conditioner 3000 (commonly known as the AC 3000) is a very powerful air conditioner (AC). It was invented by Gary the Gadget Guy. It was invented in January 2007 for use in the Lodge Attic when the snow was stored from the Christmas Party 2006. The snow would later be used in the Festival of Snow 2007. The device was also used in the Lighthouse during the Festival of Snow to keep snow sculptures cool. The AC 3000 returned during the Music Jam to keep the musical icicles cool in the Mine. You could use the icicles to make music. It returned again in 2008, for the Snow Sculpture Showcase. It returned for the final time in 2011, for the Great Snow Race.
Trivia
Gallery
See also
Ad blocker interference detected!
Wikia is a free-to-use site that makes money from advertising. We have a modified experience for viewers using ad blockers

Wikia is not accessible if you've made further modifications. Remove the custom ad blocker rule(s) and the page will load as expected.