Not to be confused with the Paper Boat Scavenger Hunt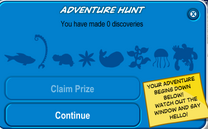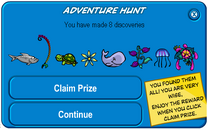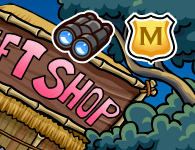 The Adventure Hunt was a scavenger hunt during the Adventure Party. Players needed to find eight items to complete it.
Items
In the Adventure Hunt, players had to find eight items, including the Grey Fish, a rainbow plant, a Turtle, blue flowers, a Whale, hanging purple plants, a Jellyfish and a Giant Pink Flower.
The prize for completing the scavenger hunt was the Adventure Party Background.
Answers
Item 1
Item 2

Clue: By a Hay Shack is where this grows. Its flowers bloom like small rainbows!
Item and room found: Long, Tall Plant in the Cove

Item 3
Item 4

Clue: Near forts of stone with one petal showing, is where you'll find these next ones growing.
Item and room found: Flowers at the Snow Forts

Item 5
Item 6

Clue: This next plant grows in purple and green, above dirty dishes that need to be cleaned.
Item and room found: Exotic Flowers at the Plaza

Item 7

Clue: Off the coast in a wet disguise, just look for the place where the bubbles all rise.
Item and room found: Jellyfish at the Beach

Item 8

Clue: Just one more, and you've got them all. Look where the twin waterfalls fall.
Item and room found: Large Plant at the Forest

Claim Prize
See also