Ad blocker interference detected!
Wikia is a free-to-use site that makes money from advertising. We have a modified experience for viewers using ad blockers

Wikia is not accessible if you've made further modifications. Remove the custom ad blocker rule(s) and the page will load as expected.
Archived
This article is about something that was for a period of time or is no longer in Club Penguin.
Not to be confused with the Paper Boat Scavenger Hunt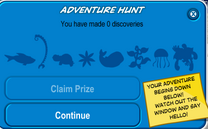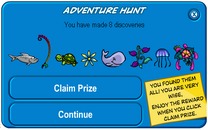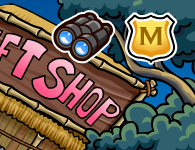 The Adventure Hunt is a scavenger hunt during the Adventure Party. You needed to find eight items to complete it.
Items
In the Adventure Hunt, you need to find eight items, including the Grey Fish, a rainbow plant, a Turtle, blue flowers, a Whale, hanging purple plants, a Jellyfish and a Giant Pink Flower.
The prize for completing the scavenger hunt was the Adventure Party Background.
Answers
| | | |
| --- | --- | --- |
| | Spoiler warning: Plot and/or ending details follow. | |
Item 1
Item 2

Clue: By a Hay Shack is where this grows. Its flowers bloom like small rainbows!
Item and Where Found: Long, Tall Plant in the Cove

Item 3
Item 4

Clue: Near forts of stone with one petal showing, is where you'll find these next ones growing.
Item and Where Found: Flowers at the Snow Forts

Item 5
Item 6

Clue: This next plant grows in purple and green, above dirty dishes that need to be cleaned.
Item and Where Found: Exotic Flowers at the Plaza

Item 7

Clue: Off the coast in a wet disguise, just look for the place where the bubbles all rise.
Item and Where Found: Jellyfish at the Beach

Item 8

Clue: Just one more, and you've got them all. Look where the twin waterfalls fall.
Item and Where Found: Large Plant at the Forest

Claim Prize
See also