This page is incomplete!
This page is a stub. You can help by expanding it as soon as possible, then removing this tag.
Lack of sources
This article is lacking sources, and has information that has not been proven true. Please add trusted and reliable sources as soon as possible, or this article may be deleted. See Club Penguin Wiki:Sourcing and the Sourcing Drive for help.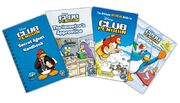 Activity Books (coloring books, sticker books, etc.) are based on the Club Penguin franchise that you can buy with real currency (Dollars, Pounds, etc.).
Books