Air Conditioner 3000
Talk

3
6,422pages on
this wiki
Redirected from AC 3000
Were you looking for AC 3000 Pin?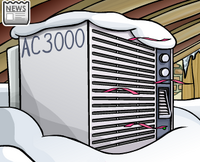 The Air Conditioner 3000 (commonly known as the AC 3000) is a very powerful air conditioner (AC). It was invented by Gary the Gadget Guy. It was invented in January 2007 for use in the Lodge Attic when the snow was stored from the Christmas Party. The snow would later be used in the Festival of Snow. The device was also used in the Lighthouse during the Festival of Snow to keep snow sculptures cool. The AC 3000 returned during the Music Jam to keep the musical icicles cool in the Mine. You could use the icicles to make music. It returned again in 2008, and then returned for the Festival of Snow 2009. It returned again in 2011 for the Great Snow Race In 2011.
During January-March 2009, the AC 3000 was in the Lodge Attic and was on, but the Lodge Attic had stored a LOT of snow for some "March FUN", so the AC 3000 shouldn't be on.
The AC 3000 appeared in Card-Jitsu as a special attack that can be unlocked by buying Club Penguin Trading Cards.
The AC 3000 appeared in December, 2006 at the Lodge Attic.
The AC 3000 appeared many times in Club Penguin but nobody knows where Gary the Gadget Guy keeps it. It's not in the Gadget Room, it's not in the Headquarters, and it's not in the Command Room.
The AC 3000 is the newer (and more advanced) version of the AC 1000.
Some penguins think that The AC 3000 can shrink with the second button so Gary can make it small and then turn it big again.
The AC 3000 returned after the 2008 Christmas Party.
Oddly, there is AC 1000 and AC 3000, but so far, there isn't any AC 2000.
This AC looks like a giant single-room air conditioning unit.
Its power source is unknown as there are no wires or power plugs coming out of it at the Ski Lodge.
There was once an AC 3000 Pin.
See also
Edit